Clean environment for doing business in HK
A relentless anti-graft agency backed by a community having zero tolerance for corruption continues to make Hong Kong a clean environment for doing business.
Index of Economic Freedom
In its 2017 Index of Economic Freedom (IEF) released in February this year, the US-based Heritage Foundation, an influential public policy research institute, praised Hong Kong for its "excellent track record in combating corruption".
"There is little tolerance for corruption, and government integrity is buttressed by a high degree of transparency," said the IEF report, which ranked Hong Kong the world's freest economy for the 23rd consecutive year.
This year, the degree of economic freedom of 180 countries and territories was assessed by 12 components, including "government integrity" (previously known as "freedom from corruption"), in which Hong Kong scored 80.3 points compared to 74 points in 2016, rising to the 10th from the 17th.
Prior to the IEF, another international survey affirmed that the culture of probity was deeply rooted in Hong Kong.
Corruption Perceptions Index
In January this year, the Berlin-based anti-graft watchdog Transparency International released its 2016 Corruption Perceptions Index (CPI). Hong Kong was ranked the 15th least corrupt place among 176 countries and territories, three places up from previous year's ranking. The city's overall score also rose by two points to 77.
The CPI has been designed to gauge public perceptions on the corruption situations of their own countries and territories. Hong Kong was perceived as one of the least corrupt places in the survey. This perception was borne out by the actual experience of Hong Kong citizens, an overwhelming majority of whom had not encountered corruption.
TRACE Matrix
Such public perception was reinforced by the latest TRACE Matrix (TM) released by renowned international anti-corruption consultancy TRACE International in collaboration with research institute RAND Corporation in December last year.
According to the 2016 TM, Hong Kong was ranked the 4th among 199 countries and territories with the least corruption risk. The score improved from 23 in 2014 when the index was first launched to 17 in 2016.
The TM report said there was "a very low expectation of bribes" in Hong Kong when doing business with the government, while the city's anti-bribery laws and enforcement were both considered of "high quality".
"The index further affirms Hong Kong's relentless efforts in maintaining a level playing field and a society that embraces the core values of probity," a spokesperson for the ICAC said.
"With the community's support, the ICAC stands ready to rise to every challenge and continues to combat corruption effectively through investigation, prevention and education."
ICAC annual survey
Locally, the ICAC annual survey conducted by an independent professional research agency through face-to-face household interviews also revealed a low level of corruption in Hong Kong.
According to the 2016 ICAC Annual Survey, 98.5% of the 1,500-odd respondents said they had not encountered corruption in the past 12 months. Only 1.2% of them said they had come across corruption, the lowest percentage registered in the past three years.
Almost all respondents (99.2%) considered that keeping Hong Kong corruption-free was important to the overall development of Hong Kong, and 96.2% of the respondents considered the ICAC deserving their support.
Corruption situation under control
Corruption in Hong Kong is well under control despite a slight rise of 3% in graft complaints from 2,803 complaints in 2015 to 2,891 complaints in 2016.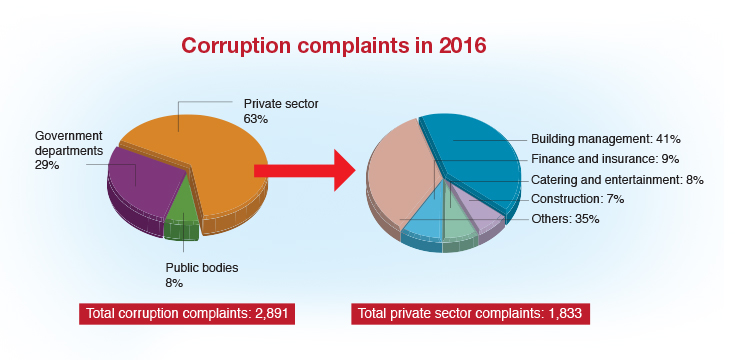 "The stable situation is attributed to the community's determination in upholding the core value of integrity and graft fighters' steadfast performance," the spokesman said.
As private sector complaints consistently took up the majority of the total complaints in recent years, the ICAC will continue to provide business ethics training tailor-made for various trades and professions, and offer free corruption prevention advisory services for private organisations.
The Community Relations Department has implemented a three-year ethics promotion programme for listed companies. The programme includes a training package on ethical governance to be launched in mid 2017 and a large-scale conference on business ethics.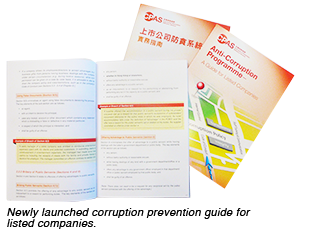 In light of amended listing rules requiring listed companies to disclose their anti-graft policies, the Corruption Prevention Department (CPD) has produced a guide to help them develop and effectively implement corporate programmes to prevent corruption.
Meanwhile, the CPD has also launched the Corruption Prevention Advisory Service web portal to provide a user-friendly electronic platform for access to corruption prevention knowledge and tools.