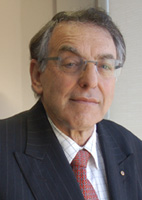 The Hon David Ipp AO QC was a judge of the Court of Appeal of New South Wales from 2002 to November 2009, having been an acting judge of that court in 2001.  From 1989 to 2001 he was a judge of the Supreme Court of Western Australia.  From 1993 to 2001 he was the judge in charge of the civil list of that court.  From 2006 to April 2009 he had a part-time appointment as judge of the Supreme Court of Fiji (the highest court in that country).

In 2002 he was appointed chairman of the panel appointed by the governments of the Commonwealth, States and Territories to review the law of negligence.

He was a part-time Commissioner of the NSW Law Reform Commission and is an arbitrator of the International Court of Sport.

From 1998 to 2001 he was a fellow of the University of Western Australia.  In 1996-1997 he was a fellow of the Inns of Court.  In 1994 he was a senior Fulbright fellow and scholar in residence at the University of Virginia Law School.

He was admitted to practice in South Africa in 1963 where, until 1981, he practised first as a solicitor and then as a barrister.  In 1981 he immigrated to Western Australia and, in 1984, joined the West Australian Bar.  He was appointed Queen's Counsel in 1985.  In 2007 the Order of Australia was conferred on him.