About the ICAC Club
(i) Objective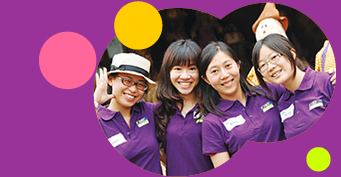 Established in 1997, the ICAC Club aims at encouraging Hong Kong citizens to actively join integrity promotion activities, thoroughly understand work of the ICAC, and directly help disseminating anti-corruption messages, so as to maintain a clean, fair, stable and prosperous society together. The ICAC Club currently has over 2,600 members.
To enhance the engagement of young people, a Youth Chapter was set up under the ICAC Club in May 2017. As a start, partnership with the Vocational Training Council has been established to recruit its students as members who have initiated school projects on integrity themes in different formats. So far, about 750 students have been recruited. All ICAC Club members, aged 35 or below, are also members of Youth Chapter. The membership is currently up to about 1,400.
(ii) Eligibility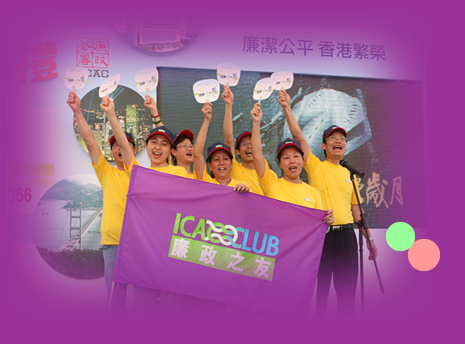 Hong Kong citizens who are 12 years old or above and interested in assisting integrity promotion work.
(iii) Responsibility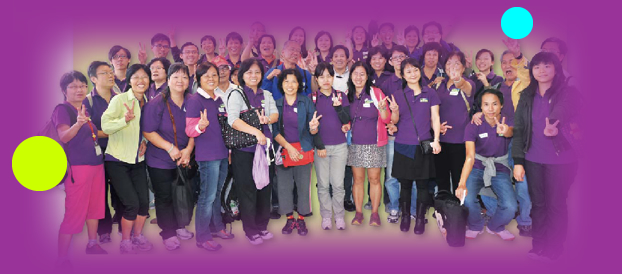 Abide by the law, support the ICAC
Uphold the good reputation of ICAC Club
Understand the meaning of corruption and its evils
Committed to promote anti-corruption messages
Actively participate in probity promotion activities
Encourage citizens to report corruption
(iv) Multi-faceted participation
Assisting in integrity promotion
Serve as volunteers in ICAC probity promotion activities
Assist in designing, planning and implementing anti-corruption activities and partake in performances, etc.
Joining activities
Join various activities organised for members, e.g. orientation programme, annual gathering and award presentation ceremony, exchange voluntary work experience and understand work of the ICAC
Attend training sessions to learn more about anti-corruption laws and skills for organising preventive education activities
Communication
Acquire the latest information about the ICAC through the Club's Newsletters, a dedicated website and a corner in ICAC smartphone app
Contribute views on the ICAC Club or work of the ICAC
(v) Award Scheme
To encourage Club members to render their support in integrity promotion, the following awards are presented according to their service hours:
Long Service Award
Having been a Club member for 5 years and the cumulative service hours reached 100 hours in the past 5 years.
Most Enthusiastic Service Award
The highest total service hours of the year among all members of the ICAC Regional Office the Club member belongs to.
Gold Service Award
The cumulative service hours reached 50 in the year.
Silver Service Award
The cumulative service hours reached 20 in the year.
Service Certificate
The Club member has served as a volunteer in any integrity promotion activity held in the year.
Club Member Involvement Project Certificate
The Club member has designed, planned and conducted an integrity promotion project through his/her network in the year.