TV and radio advertisements with the theme of "Say No to Electoral Bribes, for Yourself and Hong Kong" will be launched to enlist electors' support to uphold a clean election culture and to remind electors to refuse electoral bribery.
Please click to listen to radio advertisements: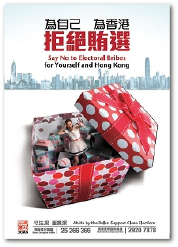 A poster on clean election message is produced for display and publicity in different locations in the territory.

A series of short videos on "Upholding Clean Elections" brings out the important points-to-note at elections in a lively manner to candidates, election helpers and electors.